Class President Elections
Howdy, interested in running to be a Class President?
---
We are so excited you want to run!
Our elections are managed by the Election Commission of the Student Government Association. Please go to their website (election.tamu.edu) for information about how to file, qualifications, rule and regulations of the election.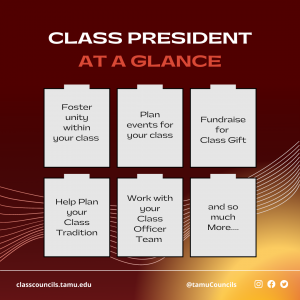 Questions:
If you have questions about the positions and what it entails, please contact info.classcouncils@aggienetwork.com.
Any questions about the election process, rules and regulations, please go to the Election Commission Website (election.tamu.edu).
.