Howdy, interested in applying to Class Councils?
---
We are looking for passionate members who want to serve the Texas A&M community by unifying the student body and making traditions happen. As an organization we look for students who are passionate about A&M and are looking to develop real world skills in areas such as: Finance/Accounting, Fundraising, Graphic Design, PR/Marketing, Event Coordination, Social Media Management, Service Opportunities, Team Building, and more!
Freshman Apply to the Freshman Council (FishCo) thought the FLAC Process HERE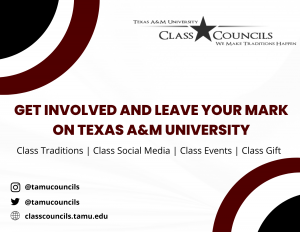 '25- '23 Applications can be found HERE.
8/30 Informational........ Koldus 144 @ 8:30 PM
9/8 Informational........ MSC 2502 @ 7:00 PM
Deadline Extended!
'25-'23 Applications are due to THIS form: September 18th by 11:59PM.